FMO arranges USD 100 million syndicated loan to Access Bank to support agribusiness in Nigeria
8 February, 2018
Original source: FMO
Access Bank Plc announced that it has signed a Syndicated Loan Agreement totaling USD 100 million.
The credit line has been arranged by FMO, together with Proparco, the French private sector development bank, Norfund (Norwegian Investment Fund for Developing Countries), Finnfund (Finnish Fund for Industrial Cooperation Ltd) and Swedfund (Swedfund International AB). Other participants are undisclosed institutional investors through FMO's syndications platform. FMO acted as the Mandated Lead Arranger and will be the Facility Agent.
This is the first syndicated loan arranged by FMO to its longstanding partner Access Bank. The proceeds of the loan will be used by Access Bank to support private business in Nigeria involved in agricultural production, processing, distribution and consumption, which will help to further boost the country's agricultural sector. Agriculture remains the base of Nigeria's economy, providing the main source of livelihood for most Nigerians and employing over half of the entire workforce.
Access Bank Group Managing Director Herbert Wigwe stated: "The land mark transaction is a testament of the strong long-lasting relationship that Access Bank has developed with the leading European DFI's. It will help to strengthen the Bank's well-developed capacity to continue to lead bank funding into the Agri space."
FMO's CEO Jurgen Rigterink commented: "FMO is proud to have successfully arranged this syndicated loan facility for Access Bank, bringing also new investors to the bank and to Nigeria. It will enable Access bank to continue its growth and supports job creation in the country's important agricultural sector."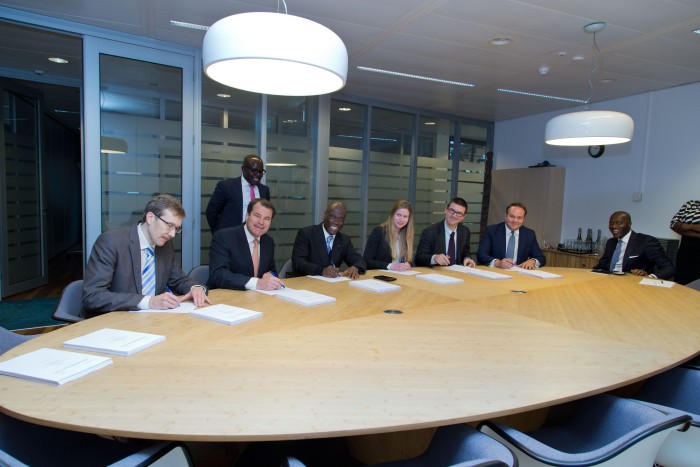 About Access Bank
Access Bank Plc is a full-service commercial Bank operating through a network of 310 branches and service outlets located in major centres across Nigeria, Sub-Saharan Africa and the United Kingdom. Listed on the Nigerian Stock Exchange in 1998, the Bank serves its various markets through 5 business segments: Corporate and Investment Banking, ommercial Banking, Business Banking, Personal Banking, Operations and IT Divisions. The Bank has over 800,000 shareholders including several Nigerian and International Institutional Investors and has enjoyed what is arguably Africa's most successful banking growth trajectory in the last 16 years.
As part of its continued growth strategy, Access Bank is focused on mainstreaming sustainable business practices into its operations. The Bank strives to deliver sustainable economic growth that is profitable, environmentally responsible and socially relevant.