TZS 75 Billion (USD 35 Mn) Loan for Exim Bank to boost lending to SMEs in Tanzania
2 July, 2018

Original source: FMO
Exim Bank Tanzania Ltd, an indigenous Tanzanian Bank ranking 5th in the country in terms of total assets, has announced a financial closure of TZS 75 Billion to finance and support long-term lending to small and medium size enterprises (SMEs) in Tanzania.
The loan is meant to cover the lending gap to SMEs in Tanzania which is estimated at approximately 3 million enterprises, with research indicating a large majority of these are family owned micro enterprises (employing less than 5 people), and located mainly in small cities and rural areas.
Although data on the Micro, Small and Medium Enterprises (MSMEs) is minimal, indication shows that the SME sector wields an important role in the economy. Many SMEs cannot get access to financial services, while a negligible percentage rely on financial services from non-bank financial institutions such as mobile phone money transfer services which is quite expensive.
According to Exim Bank Deputy CEO, Mr. Jaffari Matundu "This is also in line with His Excellency, President of Tanzania, Dr. John Pombe Magufuli's vision to transform Tanzania into an industrialized economy. SMEs are considered to be engines of growth in any economy and any industrialized economy should have large number of SMEs engaged in incidental and ancillary units to support large corporates / projects in the country. The massive projects in infrastructure sector will require enough local units to support backward linkages and supply services for successful completion of these mega projects. The loan has been accepted as a Senior Unsecured loan of TZS 75 billion from FMO and this is part of the bank's strategy to support SMEs thereby generating employment and reducing poverty in the country."
"FMO is extremely pleased to continue and intensify our relationship with Exim Bank through this new loan facility. Supporting local enterprises through trusted partners like Exim Bank is core to FMO's mission", Linda Broekhuizen, Chief Investment Officer.
The loan is also a testimony of Exim Bank's trust and goodwill that the international development financial institutions place upon it. Exim Bank has a relationship with all renowned DFIs viz. IFC, EIB, PROPARCO and further this second loan with FMO has been a new feather in cap (honor). Exim Bank will be immediately drawing TZS 23 Billion and the balance over a period of next 17 months.
EXIM Bank is the first Tanzanian Bank to set foot print abroad and go international with now presence in 3 countries Comoros, Djibouti and Uganda. The Bank has been awarded 'Best Retail Bank in Tanzania by 'Banker Africa' for 2016 awarded in May'17 and Best Employer in HR Governance and Employee Engagement in Tanzania for the year 2016 by Tanzania Association of Employers. The Total Asset and Shareholders Fund as on 31st December 2017 is at TZS 1.6 Trillion and TZS 231 Billion respectively.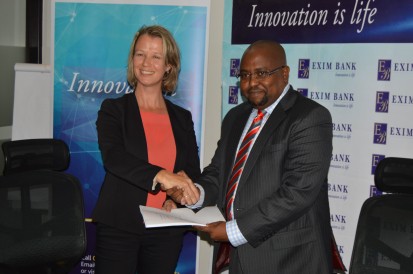 Deputy CEO of Exim Bank Tanzania, Jaffari Matundu shakes hands with Marleen Jansen, Senior Investment Officer of FMO after signing